When a member is financing a used vehicle with your credit union, it is critical to ask them to see the Used Vehicle Buyer's Guide during the loan application process.
The Used Vehicle Buyer's Guide contains many important factors that can affect the vehicle's value.  Maine law requires dealerships to display this document in the window of all used vehicles for consumer disclosure.  However, the law DOES NOT require dealers to disclose this guide to the credit union (i.e. lienholder) so this important information can be easily overlooked regarding a loan decision.
What info can be found on the Used Vehicle Buyer's Guide?
Year, make and model
Prior use (personal transportation, rental vehicle, municipal, etc.)
How the vehicle was obtained
Major mechanical problems (motor, transmission, etc.) even after repair
Prior damage (resulting from fire, flood or collision) exceeding $2,000 in repair
Warranties offered by the dealer (indicating either: Dealer Express Warranty, AS IS or Maine State Inspection Only also referred to as Warranty of Inspectiblity)
Why is it important to consider this information?  
The most important reason to consider the Used Vehicle Buyer's Guide information is loan-to-value (LTV). Every credit union has differing loan policies that state how much they are allowed to lend with regard to LTV. Most credit unions use the NADA Used Vehicle Guide to determine a vehicle's clean retail value.  The definition of clean retail is: No mechanical defects and passes all necessary inspections with ease; paint, body and wheels may have minor surface scratching with a high gloss finish; interior reflects minimal soiling and wear, with all equipment in complete working order; vehicle has a clean title history; vehicle will need minimal reconditioning to be made ready for resale. However, a vehicle that is listed as "Maine State Inspection (MSI) only" or "AS IS", is NOT a retail unit and can be worth far less than the value stated by an NADA valuation.  In most cases these vehicles do not qualify for a vehicle service contract, but if they do, most or all of the claims submitted will be denied for preexisting conditions.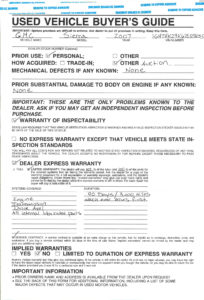 What does Maine State Inspection (i.e. Warranty of Inspectability) mean?
Used cars that are sold by a dealer as retail must have an inspection sticker issued within the past 60 days. This is called a 'Warranty of Inspectability'. This indicates that the vehicle has been inspected for the purposes of issuing an inspection sticker, and will pass inspection on the date of purchase.  However, vehicles designated as 'MSI Only' have passed on ONLY inspectable safety items.  Mechanical components such as the engine and transmission have not been inspected or verified by the dealer.
When may a used car be sold without a Warranty of Inspectability?
If a vehicle does not have a valid inspection sticker, it will have a posted 'Unsafe Motor Vehicle' certificate. This certificate is completed by a licensed inspection mechanic and indicates the car was inspected, but did not pass. The certificate will list the items that failed inspection. If a member is financing a car with this designation, the vehicle must be towed from the dealer's lot, cannot be test driven on Maine roadways, and cannot be issued a temporary plate.
The Used Vehicle Buyer's Guide says that the vehicle is "repaired" "salvage" "rebuilt salvage" or "rebuilt", what does this mean?
These brands indicate that the vehicle has been declared a total loss by an insurance company, and has been repaired. This may affect the value of the vehicle and some insurance companies may either not approve or provide a reasonably affordable insurance policy option on vehicles with these branded titles.
Is the dealer required to give a 30-day warranty on used vehicles?
No. Maine law does not establish a set warranty coverage (other than state safety inspection warranty). Maine law also does not specify what components and terms a warranty will cover. In many cases, a dealer will have standard written warranty coverage. Review any written warranty carefully to determine the length of the dealer's warranty and the items covered for your used car. These will be listed on the 'Express Warranty' section of the Used Vehicle Buyer's Guide.
If a member has a question or concerns regarding information contained on a Used Vehicle Buyers Guide, they can contact the Maine Bureau of Motor Vehicles Office of Investigation on the State of Maine website.